MAJOR DYNASTY BASEBALL
2019
TEAMS
Northern League - Division Cy Young
Beach Bandits - fuerte
S
Bluetown Thunderbirds - Seahawk
Hamburg 1887 Cubs - thorge1377
S
Money Ballers - Bilbo
S
Weener Pythons - DDP
Northern League - Divisions Babe Ruth
Anspach Amazinz - JetsforLife
S
Koblenz Finest - Crosby sucks!
Mattiacum Metrics - Silversurger
S
Stolen Bases - Sturmtank
Striketown Sox - hs86183
Southern League - Division Hank Aaron
Darmstädter Dollbohrer - Thurman34
D-Ville Piranhas - Dante LeRoi [C]
Hannover Red Sox - Patsfanatic
Hohenlohe Reckoners - Der Bus
Team Bummeluchs - Madness
S
Wahoo Walkers - Jo Brauner
Southern League - Division Jackie Robinson
Barmbek Doves - kiwi90
Broadway Yankees - chris49ers
S
Dugout Ducks - TheGoose
M-Town Base Invaders - LikeMike
New Village Sluggers - Ber001
Team Possible - Tom
Aussteiger
Neueinsteiger
*
Rückmeldung ausstehend
#
Abstimmung Drafttermin ausstehend
€
Startgeld ausstehend
X
Abstimmung Draft-System ab 2020 ausstehend
L
Kein Logo ausgewählt
S
Feedback Schedule ausstehend
ROSTER
1x C
1x 1B
1x 2B
1x 3B
1x SS
3x OF
1x Util
2x SP
2x RP
3x P
6x Bench
5x IL
------------
10 Keeper (Pflicht!)
SCORING CATEGORIES
Batting
R - Runs
HR - Home Runs
RBI - Runs Batted In
SB - Stolen Bases
BB - Walks
H - Hits
Pitching
IP - Innings Pitched
SV - Saves
K - Strikeouts
ERA - Earned Run Average
WHIP - (Walks+Hits)/Innings Pitched
QS - Quality Starts
RULES
Number of Teams: 20
Scoring Type: Head to Head Each Category
Divisions: 4 Divisions in 2 Leagues
Playoffs: Yes
Observe ESPN's Undroppable Players List: Yes
Player Universe: MLB
Lineup Changes: Daily - Lock Individually at Scheduled Gametime
Player Acquisition System: Free Agent Auction (Continuous)
Season Acquisition Limit: 80
Matchup Acquisition Limit: 7 (for 7-day matchups)
Waiver Process Days and Time: Monday, Tuesday, Wednesday, Thursday, Friday, Saturday, Sunday @ 11 PM ET
Player Acquisition Budget: $150
Minimum Bid: $0
Free Agent Auction Tiebreaker: Reset Each Week to Inverse Order Of Standings
Trade Limit: No Limit
Trade Deadline: Jul 24, 2019 @ 12:00 PM GMT+2
Trade Review Period: 2 Days
Votes Required to Veto Trade: 7
Minimum Innings Pitched: 30
Start of Regular Season: Week 1 (Start of Season)
Weeks per Matchup: 1
Regular Season Matchups: 18 (Playoffs start Week 19)
Category Tie Breaker: None
Playoff-Teams: 6 (*best team per league gets 1st round bye)
Weeks per Playoff Matchup: 2 week per round
Playoff Seeding Tie Breaker: Head to Head Record
Draft Type: Snake-Draft
PLAYOFF TIE BREAKER
1. [Gilt nur im Finale] Verlängerung des Matchups um 1 Woche (manuelles Scoring durch die Finalteilnehmer)
2. Auswertung Season H2H
3. Durchschnittliche prozentuale Differenz der Kategorien im Season H2H
BEISPIEL: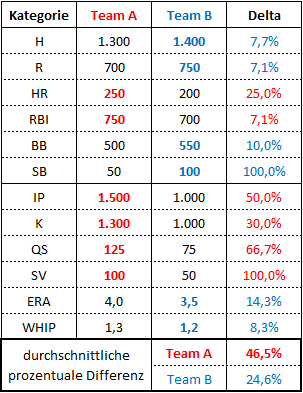 FINANZEN
Teilnahmegebühr
5 € pro Person
Gewinne (insgesamt 100 €)
5 € für jeden Division-Sieger (20 €)
10 € für jeden NLCS- und SLCS-Teilnehmer (40 €)
10 € für jeden World Series-Teilnehmer (20 €)
20 € für den World Champion
ARMIN GEH!
"Ich weiß nicht immer, wie es geht. Aber wie es nicht geht, weiß ich."
Armin Veh, 11.03.2019

Dieser Beitrag wurde bereits 59 mal editiert, zuletzt von Dante LeRoi ()